MICRO-SOLDERING EXPERTS IN BOISE
Get Premium iPhone Logic Board Micro-Soldering Services In Boise
Board Level Micro-Soldering is a complex task which demands skill and scrutiny. The delicate process requires one to have master-level control over the equipment used. With the help of our diverse team of expert technicians at Four Corner Repair Center, we offer sterling micro-soldering services to repair machinery. 
Our process of micro-soldering essentially means combining ultra-fine wires to make it easier to connect electrical wires when fixing gadgets. It is a tricky process that requires high-quality equipment, but thanks to our expert technicians, we are able to repair your machinery effectively, efficiently, and affordably. 
Whether you need to repair or replace the motherboard or component level board, Four Corner Repair Center has a team designated for all! Bring your broken and damaged Apple electronics to us and sit back as our professionals take care of them for you in record time. You can also get repairs and replacements for your MAC, Laptops, and Samsung products. Learn more about them here.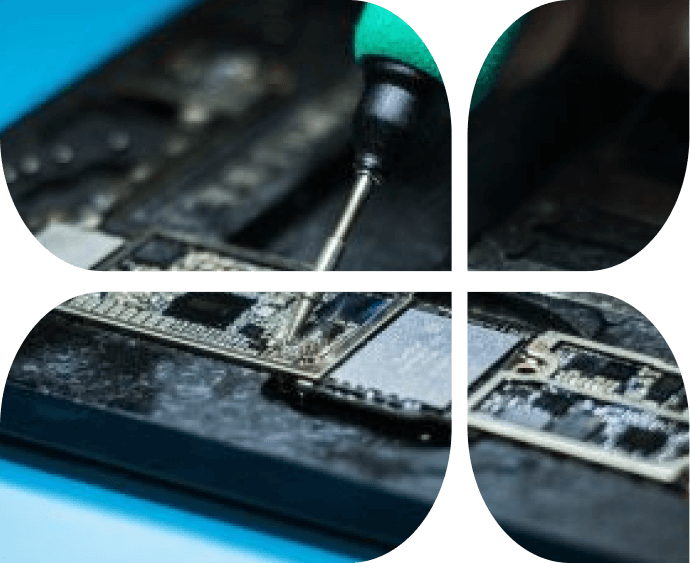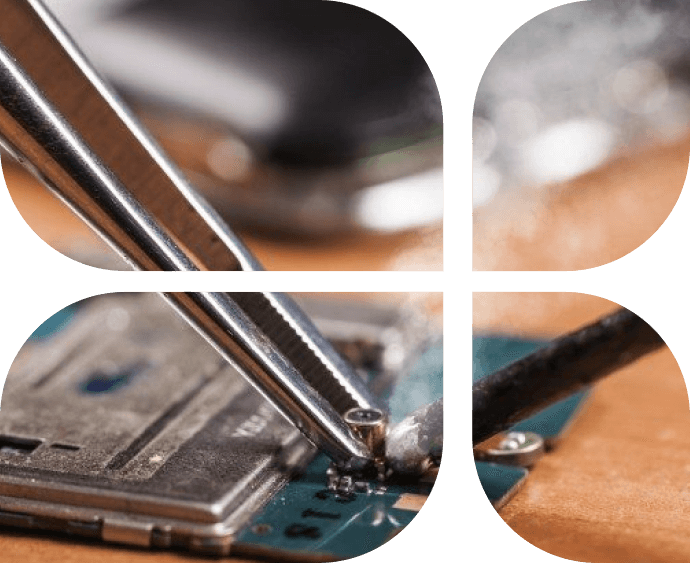 Here's What We Provide Within Micro Soldering Services
At Four Corners Repair Center, we focus on providing board-level repair solutions to our clientele. From problems such as microphone issues, battery issues, connection issues, and camera module response to solutions such as motherboard replacement and component level repair, we provide all. After the motherboard develops problems, people often consider getting rid of their phones. Bring it to us to witness our specialists do their magic and alter its software and hardware to perfection! A large chunk of our process success depends upon micro-soldering, which can be done using traditional or contemporary methods.

We rely mostly on utilizing high-end equipment to ensure a smooth, error-free, and hassle-free process when micro-soldering. We take pride in offering our services in minimal time with a pleasant and supportive customer care staff to cater to your needs. Get in touch with the best cell phone motherboard repair in Boise and eliminate your troublesome phone issues today!
Pros Of iPhone and iPad Logic Board Repair with Micro-Soldering Technique
Here are the top perks of getting the motherboard of your Apple products repaired:
Lower in Cost
Getting the motherboard of an iPhone or iPad replaced can be extortionate. In times where it seems like the 'easier' way, be wiser and get it repaired instead. It will reduce your expense while improving your device to be good as new!
Free Diagnosis
We understand how it can be confusing for our clientele not to know whether their cell phone motherboard requires repair or replacement. Hence, we also provide free diagnosis services and excellent and reliable tech-repair services. You can get your gadgets examined by our team of experts.
Specialists Will Handle Your Device
It can be daunting to hand over your device to strangers and trust them not to mess it up even more. We understand, which is why we only work with specialists for such tasks. For minimal costs, you can get your iPad and iPhone plus motherboard repaired by professionals at Four Corner Repair Center.
No Hidden Fee, No Additional Charges
When you get in touch with our Four Corners Repair Center professionals, we focus on providing safe, reliable, and efficient board-level repair services. Many firms have hidden and additional costs involved in their process, but not us! We believe in offering straightforward and fixed prices.
Transparency
We offer transparency in our dealings as we believe in providing trustworthy and reliable services. No extra charges are involved in our process in the name of service charges either. Our transparency in our dealings is one of the most appreciated qualities of our work.
Ethical Considerations
Your device is our responsibility. None of our specialists will compromise on your asset's repair quality. We will handle it with utmost care and concentration. You can sit back and relax knowing that our ethical considerations will care about your data and your device's welfare.